Regulatory and Quality Management
Intellitec has long-term experience with managing software projects in compliance with national and international quality system regulations and standards, such as EU IVDR, MEDDEV, ISO 13485, ISO 14971 and IEC 62304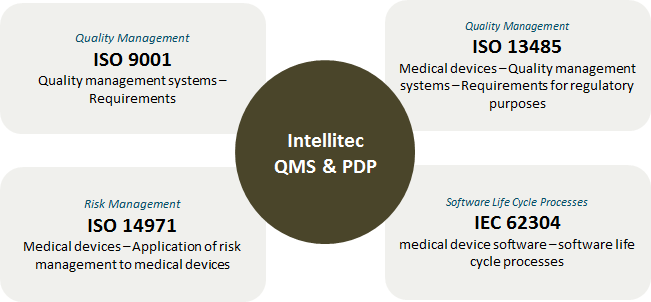 For us, providing high quality in all aspects is an integral part of our service. All employees are committed to a professional execution of the company's strategy.
Intellitec applies iterative customer-oriented development methods for conducing projects that integrate key principles of agile software development. Iterative implementations, continuous requirements and change management and in-process testing and reviews ensure timely delivery, transparency and good quality.


We have developed a quality management system that fully integrates the requirements of ISO 9001:2015 and even meets the advanced requirements of ISO 13485:2016 for medical device manufacturers. Periodic and independent audits through a ISO accredited certification body have confirmed that these procedures are appropriate and effective the work we do for our customers.
Contact
Feel free to get in touch if you have any questions or suggestions
Intellitec

Wilhelmshöher Allee 306B
34131 Kassel
Germany
+49 561 99 450 470
+49 561 99 450 471