Intellitec
Healthcare IT Solutions
Intellitec develops powerful and reliable laboratory middleware solutions providing connectivity, workflow support and data management, allowing laboratories and doctors to improve their processes and to diagnose and treat patients more effectively
Intellitec has developed solutions for clinical chemistry, microbiology/bacteriology, hematology, specialty testing and point-of-care (POC) test management making lab processes more efficient, reducing errors and improving quality so users can concentrate on important tasks that need their attention.
Our Customers
Our customers are leading international manufacturers in healthcare diagnostics and clinical information system vendors.
Hospitals, medical laboratories and resident physicians in more than 500 installations and across more than 30 countries successfully use middleware systems developed by Intellitec for their daily routine.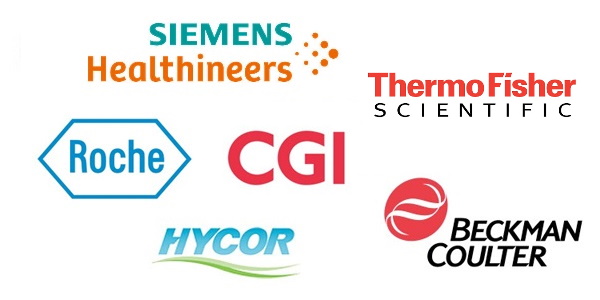 See what our customers tell about us:
HYCOR Biomedical has been working with Intellitec for about ten years and I have been working with them for the five years since I joined the company.

Intellitec has interfaced our instruments to a variety of hospital and lab information systems, all of which are working flawlessly. In my years working with Intellitec, I can honestly say that I do not have one complaint. The team communicates clearly with me, my team, my clients and the information system providers and handles all integrations from inception to implementation and know how to collect information if it is not being provided.

We are very pleased to be using Intellitec as the core lab information system interface in our next generation immuno-analyzers.
Douglas Canfield
Sr. Software Architect at Hycor Biomedical
Intellitec has developed a flexible interface converter solution for us, that enables customers to transfer results from Xprecia Stride Analyzers directly to their data management system.

I would highly recommend Intellitec and would definitely consider working with Intellitec again for a similar project.

Beyond the technical expertise that you and your team brought to the project, we were very impressed by how you balanced the needs of the customer, Siemens, and Intellitec throughout the entire project. You constantly were looking out for the best solution for all of the stakeholders. We were also amazed by the responsiveness and flexibility of your team to accommodate our schedule and needs.

It was a real pleasure working with you and I hope we have another project to work on together in the future.
Edward J. Gordon
Global Marketing Executive | Siemens Point of Care Diagnostics
Regulatory and Quality Management
Intellitec has long-term experience with managing software projects in compliance with national and international quality system regulations and standards, such as IVDD (98/79/EC), MEDDEV, ISO 13485, ISO 14971 and IEC 62304.
We have developed a quality management system that fully integrates the requirements of ISO 9001:2015 to ensure continuous improvement of its operations. Periodic and independent audits through a ISO accredited certification body have confirmed that these procedures are appropriate and effective the work we do for our customers.
Corporate Responsibility
Intellitec is committed to running its business in a manner that is economically, environmentally and socially responsible.
Customers and Emplyees
Intellitec stands for integrity and honesty. We are committed to fair business practices and to treating our employees and customers with respect. Responsibility for the health and safety of our employees is an important aspect in your business.
Environment
We are committed to protecting the environment. As a result, Intellitec has chosen 100% renewable and CO2 neutral energy provided by Naturstrom AG. Furthermore, we constantly seek to reduce our power consumption through optimization and conscious use. Intellitec has also chosen to compensate its air travels through the non-profit organization atmosfair as a contribution to climate protection with added value to people worldwide.
Contact
Feel free to get in touch if you have any questions or suggestions
Intellitec

Wilhelmshöher Allee 306B
34131 Kassel
Germany
+49 561 99 450 470
+49 561 99 450 471